Marketing Without Megabucks: How to Sell Anything on a Shoestring
Marketing Without Megabucks: How to Sell Anything on a Shoestring is sold out. But Grassroots Marketing: Getting Noticed in a Noisy World includes everything that was in Marketing Without Megabucks: How to Sell Anything on a Shoestring, plus over 70,000 words of new information (primarily on the Internet, face-to-face selling, and building a national/international marketing presence and brand)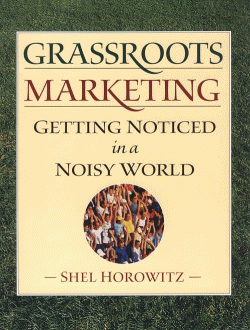 A very special testimonial from Germany: Marketing Without Megabucks: How to Sell Anything on a Shoestring Created a 1.4 Million Dollar Business with NO Advertising Expenditure
"Thank you for your wonderful book 'Marketing without Megabucks'. It is the single most profitable investment I've ever made. With its superb advice, I managed to build a small company turning over close to 1,000,000 US Dollars a year within 2 years and I have not spent a single penny on paid advertising! With our special computer-noise reduction products we have obtained front-page coverage with the most important German computer magazine, and have been featured in 13 other magazines and newspapers. We (rather the product) even have been featured twice on TV...
"Starting this year, we employ 5 people, and estimated turnover is 1,400,000 US Dollars. Most helpful were the chapters on working the media, and on customer service/referrals (20% of our new business comes from referrals.)"
--Georg Schlomka, A Conto GmbH, Germany aconto-nord@noisecontrol.de. Gerog Schlomka's website is at http://www.noisecontrol.de
World-Renowned Libraries Endorse and Buy Shel Horowitz's Books.
____________________________________
Ready to order? Click here to order your copy of Grassroots Marketing: Getting Noticed in a Noisy World for just $22.95 U.S., plus $5.50 shipping within the U.S. or call toll-free, 877-FRUGALFUN. A less expensive version is available as a PDF e-book for just $18.50 with no shipping cost.
Outside the U.S. or Canada, please call (01)(413)586-2388
Please click here for our return policy.
Please click here to see the testimonials, book reviews, and a link to the Grassroots Marketing: Getting Noticed in a Noisy World Table of Contents and index.